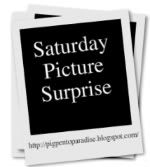 This week's random picture is from December 2007, picture # 62.
This picture was taken in Guantanamo Bay, Cuba on Christmas Eve. Yep, we are able to go swimming in the ocean on Christmas Eve around here. The weather is absolutely perfect during the winter time. It will be weird living somewhere else in a couple of years where we might actually be chilly!!
Check out what others were taking pictures of in December 2007 at
From Pigpen To Paradise
.